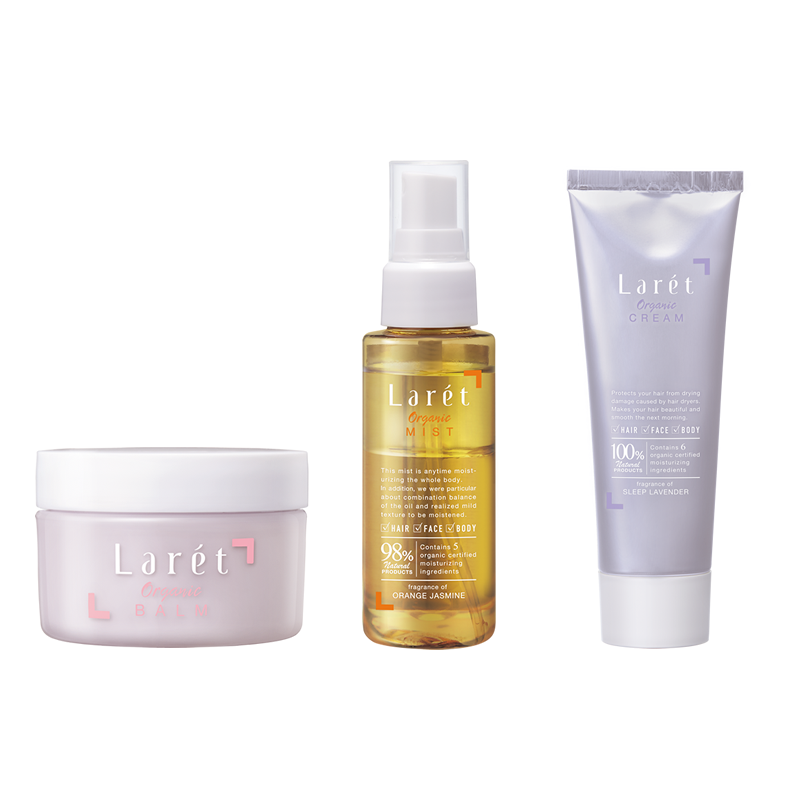 Hair and makeup artist Yuki Takahashi produced Introducing a natural prescription hair care brand that can care for body and face
Cure Co., Ltd. (Headquarters: Chiyoda-ku, Tokyo; President: Hiromitsu Mizuno) is a salon-quality, multifunctional organic hair care brand "Larét" under the supervision of Yuki Takahashi, a hair and makeup artist who works on famous actresses and models. Start up. As the first product, all 3 types of multi-use items that can be used not only for styling but also for body care will be released ahead of time on April 28 (Tuesday) on Tokyu Hands and on our own EC site.

■ What is "Larét"? "Larét" is a coined word made by comparing the gloss of hair to the shooting stars = star tears (Larmes étoiles). In collaboration with Yuki Takahashi, a popular hair and makeup artist who is active in a wide range of fields, we have created a multi-functional organic hair care brand that can gently care not only for hair but also for skin.

■ Background of development I have a favorite for "good for hair" or "good for skin", but I want to make a favorite with "good for hair" & "good for skin"! That was the start of the development. In pursuit of "true multi-items" that are easy to use for hair styling and comfortable to use on the skin, we started joint development with Yuki Takahashi, a hair and makeup artist, a supervisor who is familiar with the voices and expertise of consumers. We paid close attention to the details of the product, such as the scent and packaging that make us feel better, and took about a year to commercialize it. In this way, a product with the theme of "24-hour full-body care" that is gentle to the skin and achieves salon quality was completed. Three types will be released this time: "Lare Organic Balm", "Lare Organic Mist", and "Lare Organic Cream". All products are blended with organic certified ingredients and carefully selected materials can be used not only on hair but on the whole body. Please take this opportunity to use items with a natural prescription inspired by professionals.

■ Product features
◆ Salon-quality organic hair care that professionals want to use everyday
◆ Multi-use that can provide full-body care anytime 24 hours
◆ Product made by Yuki Takahashi, a hair and makeup artist who works on famous actresses and models
◆ Naturally derived ingredients 98% or more, 100% aromatic essential oil blend is gentle on skin and hair
◆ 1 for moisturizing, 3 for surprisingly lustrous hair

1.「LarétOrganicBALM」
For morning styling! Uruto Mizumitsu luster and a sense of nuance A gentle organic balm that can be used on the whole body
Product Name: Lare Organic Balm -Hair Wax-
Contents: 30g
Price: 1,980 yen (+tax)
■ Product features
With a balm that melts at body temperature, you can get a nice texture of oil and wax!
Even beginners can easily reproduce a nuanced bunch of movement, and complete a mature hairstyle.
• An all-purpose item that contains 99% natural ingredients and is gentle on your hair and skin.
• Not just styling! It is not sticky and can be used as a whole body oil.
• 6 organic certified ingredients
• Fresh rose scent of freshly picked sweetness
• No synthetic fragrances / colorants / parabens / silicones / alcohols / mineral oils
2.「LarétOrganicMIST」
For daytime dryness measures! Smooth and moist, yet smooth
Organic mist that can be used over makeup
Product Name: Lare Organic Mist -Hair & Skin Mist Lotion-
Contents: 80mL
Price: 1,980 yen (+tax)
■ Product features
The natural hair and beauty serum are used to make the hair easy to spread, and even the hair ends are moisturized and moisturized! It protects your hair from the rainy season's moisture and the strong summer UV damage *.
Perfect as a refreshing refresh mist.
• Moisturize your hair and skin with a mist containing 98% natural ingredients! Oil veil won't let you escape
• A fine particle mist like silk that doesn't interfere with makeup
• Contains 5 certified organic ingredients
• Orange jasmine scent with a slight bitterness and refreshing sweetness
• No synthetic fragrances, synthetic colorants, parabens, alcohols, mineral oils or petroleum-based surfactants
* Dry
3.「LarétOrganicCREAM」
For hair care before going to bed! Moisture to the tips of hair, natural beauty.
Organic cream that thoroughly takes care of damage *
Product Name: Lare Organic Cream -Treatment & Hand Cream-
Contents: 70g
Price: 1,980 yen(+tax)
■ Product features
A high content of shea butter *, which is said to be the king of moisturizing.
We take care of the dryer damage and keep it moisturized until morning! Thorough care for dry damage leads to beautiful hair.
Because it is a semi-matte, it can be used as a measure against ahoge near the scalp!
• Damaged with concentrated cream containing 100% natural ingredients * Repair & hand care
• 6 organic certified ingredients
• Sleep lavender scent with an oriental sweetness in a clean feeling
• Synthetic fragrance, synthetic colorant, paraben, silicone, alcohol, mineral oil, petroleum-based surfactant, preservative, animal raw material
* Dry * Shea butter
Yuki Takahashi
Representative of Lysa Hair Salon / Hair Makeup Artist
A hair and makeup artist who is as natural as a real face and brings out the "best cute". While acting as a hair salon representative of Omotesando, he is also active in a wide range of activities such as making makeup lecturers in magazines and video media, in addition to working on hair and makeup for many actresses and models. Published three books, including makeup book "Attractive Makeup # Make yourself the cutest ever."
-Takahashi comment-
An organic care product that's gentle on your hair and skin, and you'll be satisfied with it for a year. I was particular about making a scent that can heal my heart with the scent of essential oils without using any fragrance, so every time I use it on a customer, this fragrant scent is good! Was very praised. The way I use it every day is to use a mist as a lotion for morning and evening hair before brushing, and a moisturizing cream after that, which is styled with a moderately wet balm. I think you can use it with confidence from young children to adults!